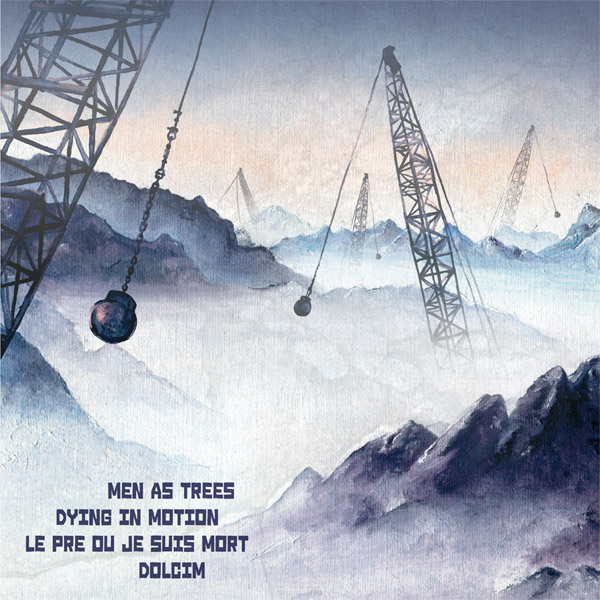 This is fucking amazing. I can't find one single bad song on this album. And actually, Jason from Men as trees emailed me and asked me to upload this, so download this baby like crazy!
From
Moment Of Collapse
's website (their distro seems to be down at the moment):
"Le Pre Ou Je Suis Mort are at first and offer with "l'avenir nous appartiendra" a new song which proofs that their debut EP wasn`t a nine day wonder. The song convinces on full scale. Different intense exchange of blows lead after a really ear catching intro into an absolute brilliant endpart, where you will find instruments that are not that often paired with music like this, absolute thrilling. With every break out the voice gets more despaired and the melodies fill more room. A great choice of different guitar effects, confer this long and epic piece of music the right draft.
Next are Dolcim who contribute with "Claire, advertising, 31" a straight forward driving song. This 3-piece band makes a lot of noise and trusts at this point once again on the methods they used on both of their full-lengths. Drum lines full of pressure, guitar melodies which are coupled with digital delays and diverse other effects, deep beating bass lines combined with a soaking voice that seems never to loose intensity. A really short calm kept middle part is the exception, surrounded by distorted forward rockin parts.
Men As Trees open the b-side with their unique song entitled "discovery", which starts with a couple of calm played tones before a dark screaming voice guided by a heavy played guitars take care for the addition of enough volume. Variations of the used melodies combined with screamed and sung vocals cater for unexpected skills. The songwriting is very various, you´ll find a lot of influences without loosing grip. A highlight is the acoustic guitar before the song leads into the last part in which you'll find all musical fixings this band uses.
The endpoint of this release is set by Dying In Motion, who contribute with "in meiner welt", "fürchtet unsere Sanftmut" und "komet" 3 songs which are a perfect sequel of their recently released album. The songs are caught somewhere between early french influences combined with postrock/hardcore sounds. What makes this band special is that they hold this combination under the cloak of simplicity what makes their music really interesting. All contributed songs of this release were till this point unreleased. We pressed 525 copies on black vinyl. A Lyricsheed which is printed on recycled paper is included as well. The amazing artwork was done by Sabrina Schmill"
Buy
,
Download